56% Of The Marketers Integrate Email Marketing With Social Media But Not Mobile !! [Study]
By Shilpa Shree on March 8, 2013
Email is the most admired tactic that is often dismissed as being too rudimentary for today's focus on real-time information. Yet, email continues to continue, and even thrive, under such scrutiny, continually proving its worth through better delivery practices, more advanced design, and strategic integration with other channels.
In a study, more than 75% of marketers considered Email and social media as most effectual customer engagement tools and they are primarily used to drive engagement.
Even though social media is gaining momentum, email marketing continues to be effective marketing channel, as 99% of the respondents said email marketing was effective in 2012. Also, 38% of the marketers would increase their investments on Email platform this year.
Emails had been greatly affected from past few years as marketers are more focused on mobile marketing.
A recent study from Marketing Sherpa conducted in December 2012 which included marketers worldwide found some interesting stats.
New developments that affects email marketing this year
More than 50% of the email marketing this year is affected majorly by mobile and social media.
58% of respondents who took part in the study said that the "pervasiveness of Smartphones and Tablets" will affect their email marketing plans in the next 12 months (in 2013).
While 57% of the respondents also planned to adapt email campaigns based on new developments in their social media.
Which marketing channels would be integrated with email marketing ?
Despite the advancements made on mobile (Smartphones), Only 21% of the marketers wanted to bridge Email with mobile marketing.
On the other side,  three in four respondents said that web and email marketing would be greatly integrated.
 More than two in four respondents wanted to bridge social and email; and over one in three are interested to integrate email and blogging.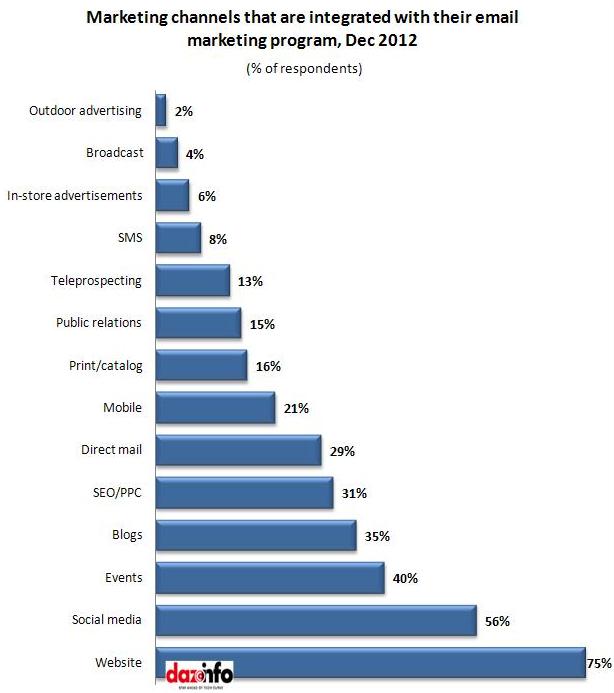 Surprisingly, there would be 216.6 million U.S. email users by this year, representing 89% of total online users. About 66% of people in the U.S. will be email users in 2013. Its also said that the Email usage is the top most common digital activities and they is used in such a level by U.S. online users is that it has reached to a saturation level among online users.
Majority of online users say that email is the basic functions necessary to efficiently use the web daily, unlike other digital activities such as social networking, video viewing or gaming.
Well we all know that mobile devices are so much advanced these days an every 3rd email is accessed through mobile devices but then the marketers are interested to integrate email marketing and social media but not mobile.
Click on the link for the complete information on Internet users from 2012-2017.
Hi ,I'm shilpa shree b.n , did my msc in multimedia technology and now walking towards the success path in content editing at dazeinfo , which basically deals with the insights and analysis of technology , social media , mobile and so on...
Related ItemsEmailmobilesocial media
March 8, 2013
56% Of The Marketers Integrate Email Marketing With Social Media But Not Mobile !! [Study]
Daily eNewsletter

Advertisement

Follow Us

Latest Articles

Sponsors

Sponsors
About Dazeinfo

Dazeinfo is a leading technology, media and marketing Internet property which is focused on market intelligence, advisory services, strategic consulting and communication design for information technology. We specialize in Smartphone, Social Media, Internet and the Gaming Industry. Dazeinfo helps IT professionals, business executives and the investment communities make fact-based decisions on innovative yet effective technology adoptions and business strategies. For more than 2 years, Dazeinfo has provided strategic insights to help our clients achieve their key business objectives.

Ianthi Guha | December 18, 2014
Ambika Choudhary Mahajan | December 18, 2014

Worldwide Active Smartphone Users Forecast 2014 – 2018: More Than 2 Billion By 2016 [REPORT]

Ianthi Guha | December 18, 2014
Copyright © 2014 Dazeinfo, Inc., powered by Wordpress.