Time To Get Smarter: A Comparative Analysis of Upcoming 15 Smart Watches Including Apple iWatch, Samsung Galaxy Gear And Google Smart Watch
When I was in my last year of teens, a cool watch meant Rolex, Casio, TAG Heuer or some other kind of costly wrist gadget in that league and a cell phone was a distant dream. Unlike today, cell phones were 'nice to have' luxury piece of 'wearable' used for texting and calling in emergency and tablet still meant a medicine. Technology has taken a great leap in last one decade and has changed people's life-style multifold. Today one can 'arguably' imagine any technology fantasy and people are out there to make it a reality.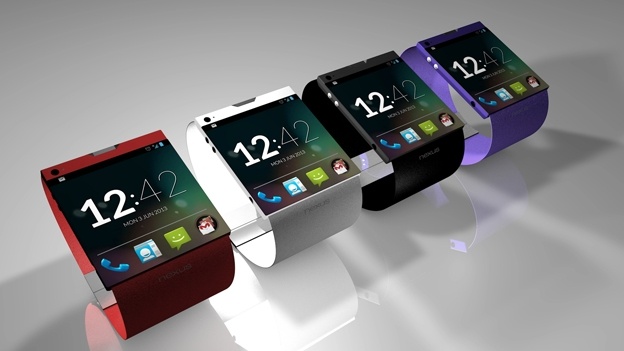 Had you ever thought of living in a time when the whole purpose of wrist watch will not be limited to 'display hour of the day' and would make 'time more smarter'? But, its a moment of truth and you would be surprised to know that there are more than a dozen of companies working on this concept and soon we will be talking with our wrist – just like some sci-fi movie or our very own British spy "James Bond". Today I am going to walk you down through the "Smart Watch Street". Let us first see the companies and their respective smart watch.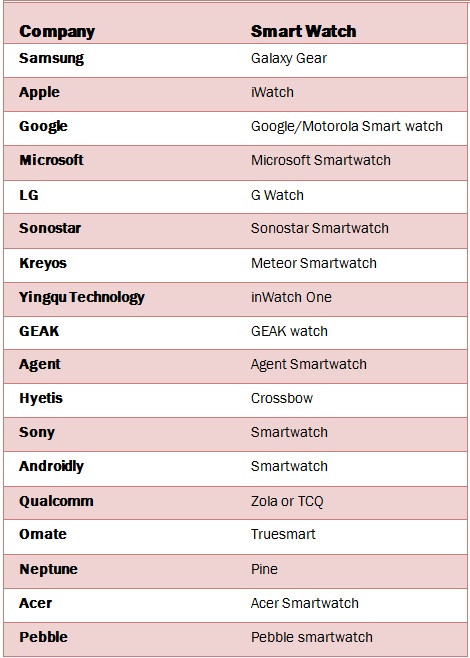 Apparently every other company is taking a plunge into the unmeasured market and trying to create a new market altogether. As people are becoming more mobile friendly (read dependent) Smartwatch would defiantly complement and make users to experience the optimum performance of these gadgets. I have tried to consolidate a detail specification of each Smart watch currently under production or announced.
The list is definitely exhaustive. Every company wants to hack a pie of the big cake. The specs ranges from low to high. But with so many options, what a user shall buy? The question remains unanswered.

The idle Smartwatch
So, what should be an ideal Smart Watch to be admired the most? The idle smartwatch should sport 1.5inch screen, Dual core processor, Camera, Bluetooth, Wifi, NFC, sync with mobile phone, a good battery life, and yes, cost not exceeding $300, apps, sync with social media, mail check, calls log, music, USB connectivity, GPS support, Internet browsing. Am I asking too much ?
I foresee the battery backup as the biggest challenge with Smartwatch; Smartphones with a king size battery don't last for more than 12 hours with average usage, how a nano size battery in watch is going to do the trick? With normal use of 4-5 hrs daily, the battery must last for at least a week. Now this may create some limitations for the manufacturers. 'Strict power constraints will prohibit cellular technology, limit the number of sensors and necessitate communication with smart phones over Bluetooth Low Energy,' according to Canalys Analyst Daniel Matte.
Market Trend
 With every other company jumping into the sea it can be said that the market is going to be massive, as it seems so.
Chris Jones, Canalys' vice president and Principal Analyst, claims that: "Smart watches will be the most important new product category in consumer electronics since the iPad defined the market for tablets. Software platforms tied to smart watches will also be a tremendous opportunity for developers to write apps in categories such as health and wellness or sports and fitness."
 Now this is going to be interesting; If the apps made for smartwatches are specialized and, as said, can help in measuring health or fitness related data, we could create a totally new market for this. Image how life will become easy for all of us with a watch on the wrist can measure your pulse, can show minor symptoms of health problems, measuring calories burned, or distance walked/run and other multiple health/fitness benefits. We are talking about a smart-technology-mini-doctor.
 Smartwatches are going to come with a new display technology people have never seen before. With the battery problem already outlined above, all the major manufacturers are coming up with displays that will be lighter on battery – the only way to make your device powerful yet advanced. Qualcomm's rumored smart watch, for example, supposedly uses Mirasol, a kind of reflective, full-color display that requires no power unless it's being updated. The Agent Smartwatch uses "Black and White memory LCD".
According to Canalys over 5 million watches to be shipped in 2014 and the numbers are bound to grow in consecutive years, thanks to apps to be designed specifically for Smart watches. Well, this purports a sizable market to bet upon. It definitely answers "why so many companies are trying to join the bandwagon". But still the problem oif cost and battery back up remain intact. Does a smartwatch costing anything above $400 worth a buy? Does the battery backup will be good enough for an average use? We need to see how the manufacturers are going overcome these challenges, or are they going to overshadow it with high specs? A lot to debate and discuss !
What do you think of new technology advancement that could change the whole paradigm of wearable gadgets ? Do you think gadgets as Google Glasses and Smart Watches could really become a part of daily life for normal people. Please use the below comment section to present your views and thought processes.
Update 1: Samsung has just confirmed the debut of Galaxy Gear on September 4, at IFA event in Berlin.